Ask our VAT Experts
Ask our VAT experts
a question. We are
here to assist you
Fact Sheet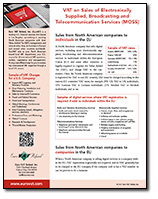 VAT on Sales of Online
Services (E-commerce) (pdf-file)
Our Services / Electronically Supplied Services
VAT - Sales of Online Services and Games
A non-EU company that sells electronically supplied services, such as software or video games to a VAT registered business (B2B) in the European Union is, in most cases, not required to charge VAT.
A non-EU company that provides electronically supplied services, such as digital products, services, software, video games or other on line services to private European consumers over the Internet (including E-commerce) is subject to the EU VAT rules implemented in 2003. This means that the company, in most instances, is liable for charging EU VAT on the invoices to the European customer. It will be necessary to:
Register for VAT in one of the European countries.
Assess (charge) VAT on all of the invoices to the private consumer located in the EU countries according to each country's VAT rate, i.e. 20% to UK customers, 19% to German customers, and 19.6% to French customers.
Contact Euro VAT Refund to find out what VAT rules apply to your Internet/E-commerce sales to Europe.